Infrared Thermal Image Sensor

for detecting thermal anomalies & runaways

A regular temperature sensor provides you with the temperature of the air surrounding the sensor. The thermal image sensors provide you with the temperature of the objects & equipment it sees.

The world's first SNMP & Modbus (TCP & RTU) thermal image sensor that tells you the temperature of what it actually sees. From 192 up to 19200 temperature measurement points in one image, analysed every 2 seconds.

Up to 5 thermal image sensors supported per SensorGateway (BASE-WIRED) with the optional SensorHub (EXP-HUB)

The support for thermal image sensors requires the optional BASE-FW-SSLS addon for the SensorGateway (BASE-WIRED) firmware. Without this addon, the thermal image sensors will not operate.

Power Over Ethernet (PoE) - Modbus TCP / RTU - SNMP - Email - SMS - 0U Rack or DIN Rail Mountable - Industrial Grade

A picture is worth a thousand words
A traditional temperature sensor tells you what it feels. However a thermal imaging sensor tells you the temperature of anything it sees; up to a distance of 50 yards or 45m.

One image can contain 192 temperature measurement points (Extra-Small version) , 768 (Small), 4800 (Medium) or 19200 points for the Large version.

The thermal image is refreshed every 2 seconds. Minimum and maximum temperature data is available to industrial and IT automation platforms via Modbus TCP, RTU (RS485) or SNMP.

Switchgear & electrical panels monitoring
Traditionally switchgear is monitored using contact based temperature sensors. They report the temperature at the point where the sensor is mounted. Switchgear also needs to be periodically checked using thermal camera guns. One hopes to catch an issue when it just appears and that it doesn't show up just after a periodic scan.

With our patented thermal image sensors a user can monitor switchgear and electrical panels 24x7 in an automated way. No need for individual temperature sensors.

Detect thermal runaways
prevent fires with early detection
Systems that overheat mostly go undetected due to the cooling provided by the HVAC system. It is only when the cooling system is unable to compensate the heat dissipation of a thermal abnormality, that traditional temperature sensors would be triggered.
The thermal image sensors look at the temperature of individual items within its field of view (FoV). From 192 up to 19200 temperature sensors; every 2 seconds.
Get temperature measurements emitted by equipment rather the temperature of the air around the equipment.
Complement your fire safety systems with the thermal image sensors to catch thermaly runaways before they result in fires.
The sensor system has to be completed with adequate alerting and mitigation systems to safeguard the infrastructure. Redundant implementation is a must in critical infrastructure.
Learn more on our fire prevention features

Logical thermal sensors using zones
identifying each bus bar or feeder cable
The thermal image from the sensor can be divided into 4 different logical temperature sensors. This enables to report via Modbus TCP each bus bar, feeder cable or other equipment part as a discrete temperature sensor.

For the Medium & Large versions, the sensor will report the MIN and MAX values in each zone. For the Small and Extra-Small versions, the sensor will report the MAX temperature value in each zone as a different sensor.

Detect thermal unbalance
between the different phases
Thermography, or the use of our thermal imaging sensors, can be used to detect phase unbalance in switchgear by detecting temperature differences between the phases. In

a three-phase electrical system, the current flowing through each phase should be balanced, with equal amounts of current flowing through each phase. If there is a phase unbalance, it can cause one phase to carry more current than the others, leading to overheating and potentially damaging the switchgear.

A thermal imaging sensor can detect temperature differences on the surface of the switchgear, automatically identify hot spots that could indicate a phase unbalance. By comparing the temperature of each phase, the sensor will generate a thermal imbalance sensor which computes the temperature difference.

Overall, thermography is a useful tool for detecting phase unbalance in switchgear, as it allows maintenance staff to identify the problem early and take corrective action before it causes significant damage. With our sensors, staff can monitor it 24x7, automatically.

Automate IR windows monitoring
Currently IR windows are monitored through periodic manual inspections using thermal guns.

By using our infrared thermal image sensors, you can not only automate the monitoring process but also perform it non-stop 24x7. The IR window mount kit enables you to plug a thermal image sensor on common 2", 3" or 4" thermal windows.

Not only do you monitor constantly your equipment, by no longer needing manual inspections you reduce your total cost of ownership.

Monitors high and low thresholds
checks every 2 seconds the 192, 768, 4800 or 19200 sensor points to see if all measurements are within the low and high range.

The high and low temperature readings are being accessed as separate, discrete values through SNMP, Modbus TCP / RTU and XML.

Industrial Protocols
SNMP & Modbus TCP/RTU Thermal Imaging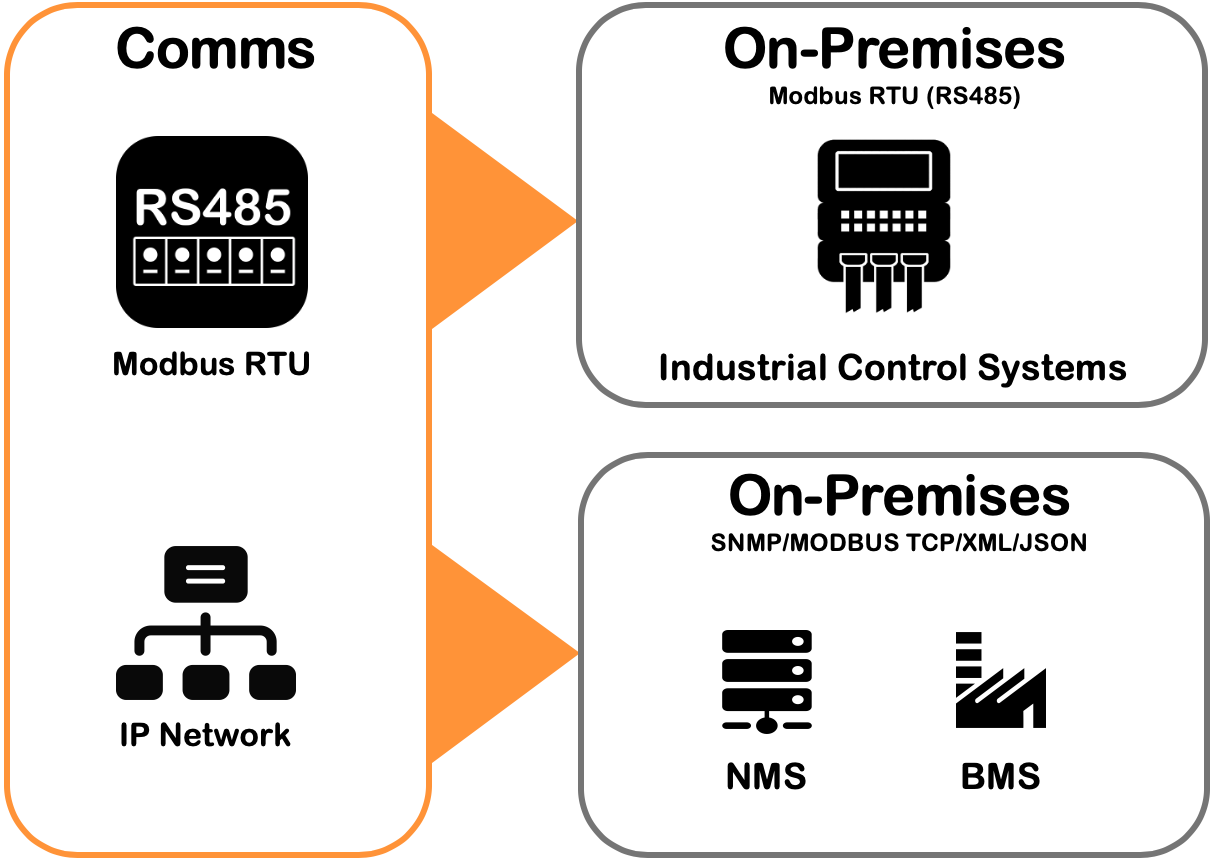 InfraSensing markets one of the first thermal imaging sensors that can be accessed by Network Management Systems via SNMP or Building Management Systems via Modbus. It returns 2 values: the highest and the lowest temperature recorded, every 2 seconds.
Using the oprtional
ADDON-RTU
the sensor can be integrated with industrial control systems (ICS) using the Modbus RTU (RS485) industrial protocol.
Plug & Play.

Benefits of thermal imaging sensors
in thermographic inspections
Thermographic inspections are a useful tool for identifying potential problems with switchgear equipment. Overheating is a common issue in switchgear and can be caused by a variety of factors, such as loose connections, overloaded circuits, or malfunctioning components. If left unchecked, overheating can lead to equipment failure or even a fire.

InfraSensing's thermal imaging sensors can detect temperature differences on the surface of the switchgear, allowing maintenance staff to identify hot spots that could indicate a problem. This can help identify issues before they become serious problems, allowing maintenance staff to take corrective action and prevent equipment failure.

Rather than relying on periodic inspections, with thermal imaging sensors issues can be detected 24x7.

In addition to identifying overheating issues, thermographic inspections can also help to identify other problems with switchgear, such as faulty insulation or damaged components. Overall, thermographic inspections are a valuable tool for maintaining the safety and reliability of switchgear equipment.

Optional 360° Ball Mount
The thermal image sensor can be mounted with the optional small and compact magnetic 360° ball mount with an adhesive base (SPARE-BALLMOUNT). Made of a powerful neodymium magnet and silicon center, it ensures a safe and secure grip of the sensor. 360-Degree ball mount allows you to adjust the camera to any angles you want. It's compact form factor allows you to mount your camera in tight spaces.

How It Works
The
sensor
connects to a
base unit
(
SensorGateway
) using a standard network cable. The network cable tranmits data and power between the base unit and the sensor. The maximum distance between a sensor and the base unit is 100m/330ft using a CAT6/7 cable (subject to cable quality and interference). Two thermal image sensors per SensorGateway are supported.
For industrial applications we do offer the optional
Modbus RTU Add-on
which enables to integrate our thermal imaging sensors with your RS-485 control systems.
Learn more